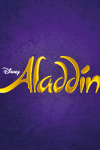 Disney's Aladdin - London
في Prince Edward Theatre
من سعر من إ.د 522
Disney's new Broadway musical Aladdin will sweep you into a world filled with magic, adventure and comedy in a breathtaking set-up when it opens at the Prince Edward Theatre in London in June 2016. Experience a whole new world, a whole new way, book your tickets now and let the countdown to a wonderful musical experience begin!

Highlights:
- Ensure your tickets to Disney's newest musical hit
- Choose your own seats
- Experience a musical for the entire family
- Enjoy the Academy Award-winning music
- Admire the exhilarating choreography & incredible visual effects

What is Aladdin about?
Based on the Disney classic movie from 1992, the musical Aladdin is the story about the charming street kid Aladdin, who falls in love with the beautiful Princess Jasmine.

Princess Jasmine is unhappy with her father's desire to find her a royal groom. Meanwhile, the Sultan's right-hand man, Jafar, is plotting to take over the throne. When Jasmine sneaks out of the palace, she meets Aladdin.

After being discovered together, Aladdin is sentenced to death, but Jafar saves him by ordering him to fetch a lamp from the Cave of Wonders. Where there's a lamp, there's a Genie, and once Aladdin unknowingly lets this one out, a whole new adventure begins!
Aladdin the Musical features the timeless songs from the movie including A Whole New World, Friend Like Me and Arabian Nights along with new music written for the musical.
With just one rub of a magic lamp, Aladdin's journey will sweep you into an exotic world full of daring adventure, classic comedy, and timeless romance.
How do I get my tickets?
Shortly after your booking is complete, you will receive an e-ticket by email. Just print out your ticket and bring it with you to the theater.
Who is the musical suitable for?
Aladdin is a musical for the whole family, but it's recommended from age 6 and up.
How long is the musical?
Aladdin is approximately 2 hours and 30 minutes, including one intermission.
Who's the team behind?
Aladdin is directed and choreographed by Tony-Award winner Casey Nicholaw (The Book of Mormon) with music by Alan Menken (Beauty and the Beast), the musical
features lyrics by Howard Ashman (Beauty and the Beast), Tim Rice (The Lion King) and Chad Beguelin (Elf).
Disney's Aladdin - London مراجعات وتقييمات
"Lands triumphantly in the West End"
Daily Telegraph
---
"Wish granted"
The Times
---
"Sheer Genie-us"
Evening Standard
---
"An absolute knockout"
The Spectator
---
"Magnificent, a shining, shimmering spectacle"
Huffington Post
---
"Brings magic to the stage"
BBC News
---
"Marvellous"
Daily Mail
---
"Theatrical magic"
Daily Telegraph
---
"It's all you could wish for and a whole lot more"
Smooth Radio
---
"Non-stop inventiveness"
The Guardian
---
"Awe-inspiring"
The Stage
---
"A sure-fire hit"
The Stage
---
"This is wish-fulfilment, in every sense"
The Stage
---
"This show has it all"
The Times
---
"Mischief and spectacle"
Evening Standard
---
"Prepare to be dazzled"
Glamour
---
"Gleam, glitter and sparkle like nothing else in the West End"
The Stage
---
"A huge hit"
The Sun
---
"Aladdin is set to transport fans in to a whole new world"
BBC News
---
"Gleeful"
City AM
---
معلومات عن مكان الغرض أو الحدث
معلومات عن العرض أو الحدث
استمارة الحجز
2019-08-21
حجز لغاية
2019-08-24
مدة العرض:
2 hours and 30 minutes
تعليمات الوصول

Leicester Square Station - Piccadilly/Northern Line

الخريطة